« Drone + Keyhole = I know where you are going | Main | Medical tourism »
April 07, 2005
Virgin Dabbawala
This guy knows how to reach out: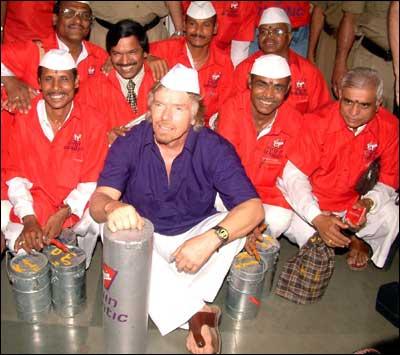 Story of Dabbawalas is fascinating. Their execution model is a classic operations research example:
The tiffins are collected, sorted out, coded and sent to their destinations. Every station has a numerical code and each place has an alphabetical code. The tiffin carries the code of the source and the
destination. The codes help them identify each tiffin owner. The system has been developed over the years and perfected, beginning with colored
threads and evolving to more systematic and logical codes. Whether it is the manager of a bank, a computer engineer, or a 10-year-old waiting
for piping hot puris in school, the dabbawalas cater to all. The only hindrance would be a railway strike.
It seems to be a must experience thing when you go to Bombay. In my two years stay in Bombay I never tasted the dabba food. Though running into these folks in local train used to be the common thing.
Checkout Wikipeadia for more serious overview of this. They are six-sigma ! Pity those companies who spend gazillions of dollars on outside consultants to get themselves six sigma certified.

April 7, 2005 | Permalink
TrackBack
TrackBack URL for this entry:
https://www.typepad.com/services/trackback/6a00d83455f8ff69e200d83544f64b69e2
Listed below are links to weblogs that reference Virgin Dabbawala:
Comments
The comments to this entry are closed.